February Shore
48 x 24" Oil on cradled birch panel. ©2016 N Strasburg
Windblown
48x24" oil on birch panel ©2015 (sold)
Island High
22x60" Oil on Birch Panel ©N Strasburg (sold)
Spring Shore
24x24" oil on birch panel ©2015N Strasburg
Reflecting
24x24" oil on birch panel ©2015 (sold)
Sky Tide Quad
30x80" oil on birch panel ©2015 (sold)
Mirage
38 x 38" Oil on Birch Panel ©2018
Low Lake Cachuma
12x30" Oil painting on Birch Panel ©2018 Nicole Strasburg
Available at Sundance Catalog
Sundown Bradbury Dam
12x36" Oil painting on Birch Panel ©2018 Nicole Strasburg
Available at Sundance Catalog
Coastal Grasses
18x36" Oil on Birch Panel ©N Strasburg
Low Lake Visitors, Cachuma
30x30" Oil on Cradled Birch panel ©2018 Nicole Strasburg
Our water source has three man made reservoirs built to sustain both human population and agriculture. The South side of Cachuma Lake hosts a recreational park where there is both camping and hiking. The North side is privately owned with few human inhabitants. The animals roam freely in their habitat with little concern for those of us floating on the lake admiring them. These are the local mule deer enjoying the shade of the fall reeds.
Available at Sundance Catalog
Fishing Lessons
19.5x29.5" oil on birch panel ©2018
Available starting March 2019 at Sundance Catalog Online
In the Balance
48x24" oil on birch panel © 2018
Ice Dreams
30x20" oil on birch panel
Freefall
30x30" oil on birch panel ©2018
Lotus
30 x 30" Oil on cradled birch panel ©2019
Currently on view at the Sullivan Goss in a new show "Masterworks" through June 23, 2019.
Spring Ranch
14x36" oil on birch panel ©2015
Willow Tunnel
14x30" oil on birch panel ©N Strasburg (sold)
Creek Grove
30x30" oil on birch panel ©N Strasburg
Boiling Storm
48x24" oil on birch panel ©2015N Strasburg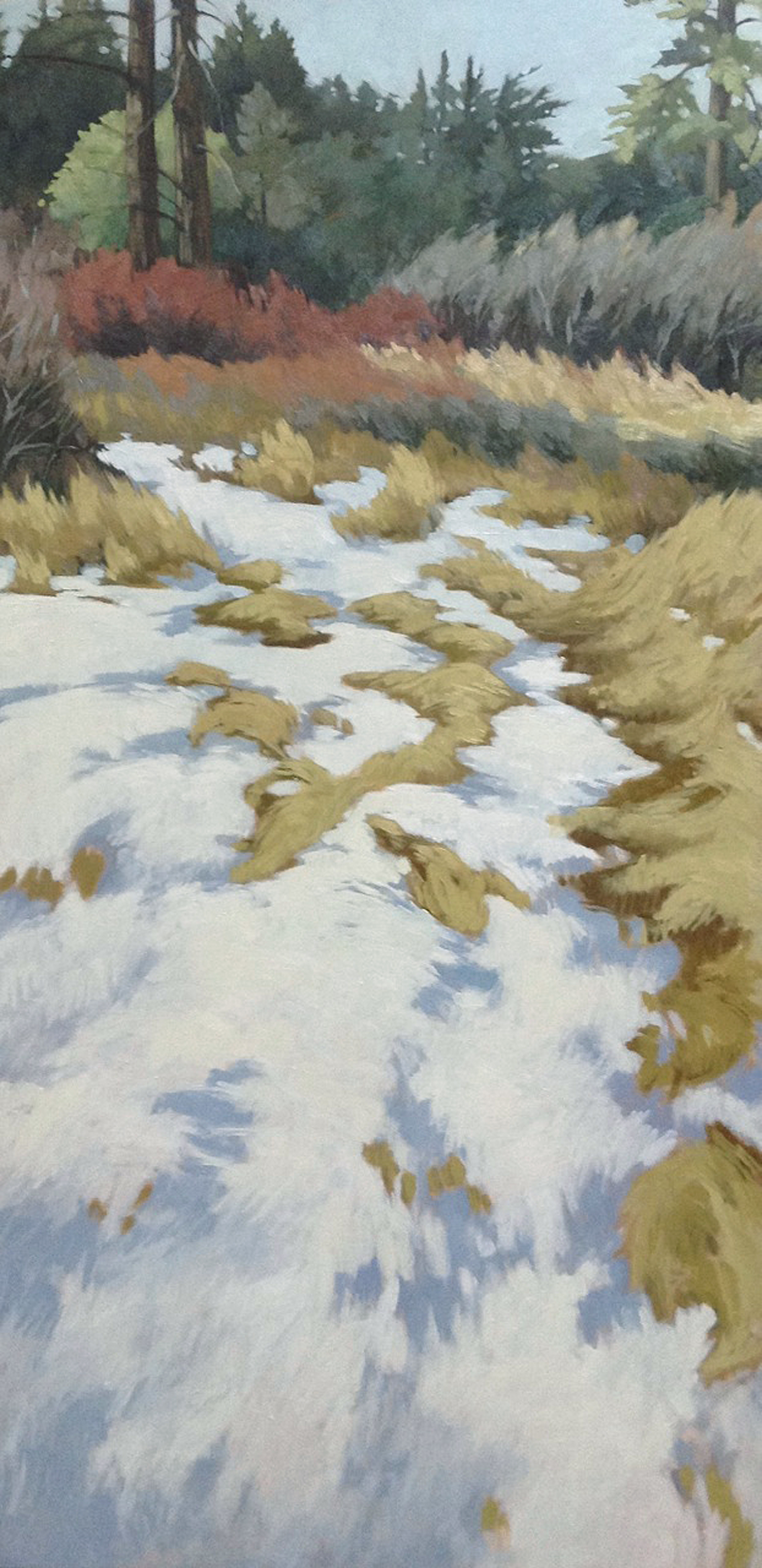 Early Fall Snow
48x24" oil on birch panel ©2015N Strasburg
Morning Estuary
48x24" Oil on Birch Panel ©N Strasburg

Receding Storm
18x40" Oil on Birch Panel ©N Strasburg
Valley Floor
16x72" Oil on Birch Panel ©N Strasburg
Spring, Santa Cruz Island
10x48" oil on birch panel © N Strasburg
Winter, Santa Cruz Island
10x48" oil on birch panel © Nicole Strasburg
From the Ridge, Santa Cruz Island
14x30" oil on birch panel ©N Strasburg (sold)
Island Hike (diptych)
19.5x59" Oil on Birch Panel ©N Strasburg
Badwater, Death Valley (triptych)
29.5 x 58.5" oil on birch panel © N Strasburg
Kelp Tide
48x36" Oil on Birch Panel ©N Strasburg
Winter Pools
36x48" Oil on Birch Panel ©N Strasburg
Winter Shoreline
36x48" oil on birch panel ©N Strasburg (sold)
Sentinel 2
60x60" Oil on Birch Panel ©N Strasburg
Path to the Sea
30x30" Oil on Birch Panel ©N Strasburg
Reflecting Clouds
24x24" Oil on Birch Panel ©N Strasburg
Campus Tide 4
40x40" Oil on Birch Panel ©N Strasburg
Morning Tide
36x60" oil on birch panel ©N Strasburg
Gaviota Pier
24x48" Oil on Birch Panel ©N Strasburg
Point Rocks Pool
40x40" Oil on Birch Panel ©N Strasburg